HSBC UK National Cyclo-Cross Championships 2020 – Shrewsbury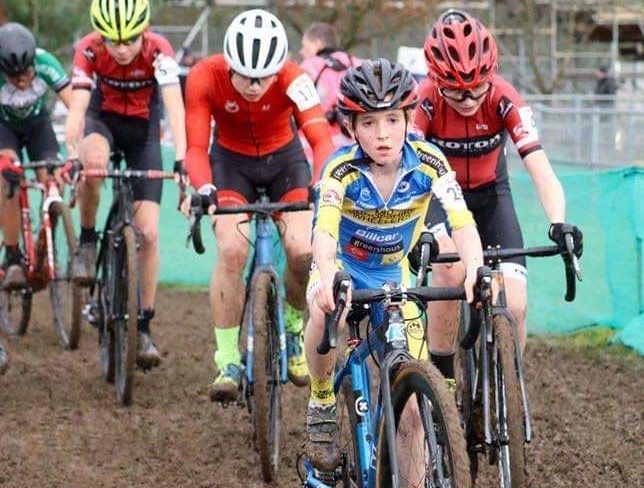 It has been four years since the National Cyclo-Cross Championships were held in Shrewsbury
The 2020 HSBC UK National Cyclo-Cross Championships was this year hosted by the Mid-Shropshire Wheelers, at Shrewsbury Sports Village, with over 100 volunteers making sure that the 750 riders and the 2,000 spectators and support crews could enjoy the weekend of racing.
Prior to the first race and post the last race, hours of volunteer support, co-ordinated by Dave Mellor and George Watkins, was put in to ready and an excellent course and then clean up the council owned venue.
The course undulated between the tarmac and the grass banking surrounding the closed circuit and spilled around a football pitch and into the adjacent woods. Although there were no hurdles, a 30ft high bridge, with deep steps and a steep descent, dominated the skyline.
The course provided a real challenge for the riders as it quickly became very muddy – just how the best cyclo-cross riders like it.
Whilst the elite riders took the headlines there were three Mid-Shropshire Wheelers youth riders who took part. Although not making the podiums they represented their club and Shropshire very well at the national level.
Daphne Jones (Shrewsbury) U16 girls came 15th in a field of 33, a crash and a mechanical hampering her ambitions of a top 5 finish.
Rebecca Woodvine (Shrewsbury) U14 girls came 24th in a field of 41 – up to 3rd on the first lap from the second row of the grid  but fell away towards the end of the race in the energy-sapping mud
Alex Hart (Church Stretton) U14 boys came 15th in a field of 50 – an exceptional ride from a 1st year U14 who will have ambitions of the podium in next year's U14 race