Midland Region Cyclo Cross Championships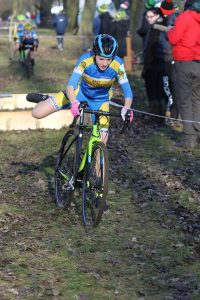 The Midlands Cyclo Cross Championships took place at the bleak, very cold and windy Darley Moor Motor Racing Circuit on Sunday 4th December.
A smaller number of Mids than normal made the journey to this non-West Mids League counting event but in sunny yet bitterly cold conditions the riders did well. Three bronze medal positions for Bridget Jones in the V50 Women, Luke Grivell-Mellor 3rd Senior for 10th overall and top of the pile, Ewan Grivell-Mellor, 3rd U23 and just edged off of the overall podium in 4th.
Other rides of note were Rebecca Woodvine and Cerys Greaves, suffering from a strange gridding system coming in 5th and 6th respectively in the Girls U12s. Alex Hart took a tumble to come in 39th in the Boys U12s. Ryan Greaves and Daphne Jones both suffered punctures to take 12th and 16th in their respective U14 categories. Andy Collins came in 18th in the V45 Men while U16 Girls Lucy Hart continues to impress with a great performance to take 4th.