10 Mile Points Championship 2017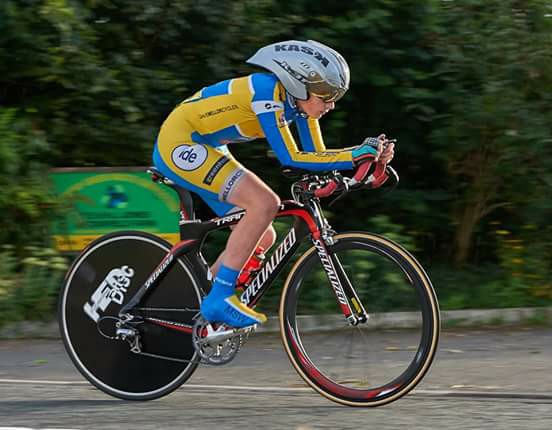 As the time trial season draws to a close, 2017 has produced two new winners for both the Evening 10 Points Trophy and Hare and Hound Trophy for the fastest Mids rider in the club 10s.
Having ridden 12 of the possible 13 events, junior Jack Young has amassed a total of 83 points to take this year's Points Championship. In the final event on 25 August, Jack rode his best time of the series with 26.05.  In second spot was another of our juniors, Ben Pierce, with 65 points with last year's winner Chris Marrs taking 3rd spot, only 3 points behind Ben on 62.
Although only being able to ride two of the events, Howard Lewis beat 21 minutes on both occasions and takes the Hare and Hounds Trophy with a blistering ride of 20.44 on 16th June. 28 club members took part in the series over the season, notching up a total of 87 rides although this would probably have been more had two events not had to be cancelled due to unseasonably bad weather.
Many thanks to the Oswestry Paragon Cycling Club for kindly allowing us to run our championships within their events.
Final Points 10 Mile Championship 2017
| Name | Points |
| --- | --- |
| Jack Young | 83 |
| Ben Pierce | 65 |
| Chris Marrs | 62 |
| Kieran Morris | 44 |
| Tim Jones | 39 |
| Alex Durnell | 39 |
| Ryan Greaves | 36 |
| Howard Lewis | 20 |
| Dave Mellor | 17 |
| Simon Evans | 17 |
| Martin Pierce | 17 |
| Megan Jones | 16 |
| Andy Collins | 15 |
| Jenny York | 11 |
| Simon Harrison | 10 |
| Phil Gardener | 10 |
| Becky Lewis | 9 |
| Bethy Jones | 9 |
| Tim Tansley | 9 |
| Lucy Hart | 9 |
| Andrew Birch | 8 |
| Tim Wall | 7 |
| Rhiannon Tansley | 7 |
| Daphne Jones | 7 |
| Dave York | 6 |
| Will Jones | 6 |
| Laura Barton | 2 |
| Andy Cameron | 1 |