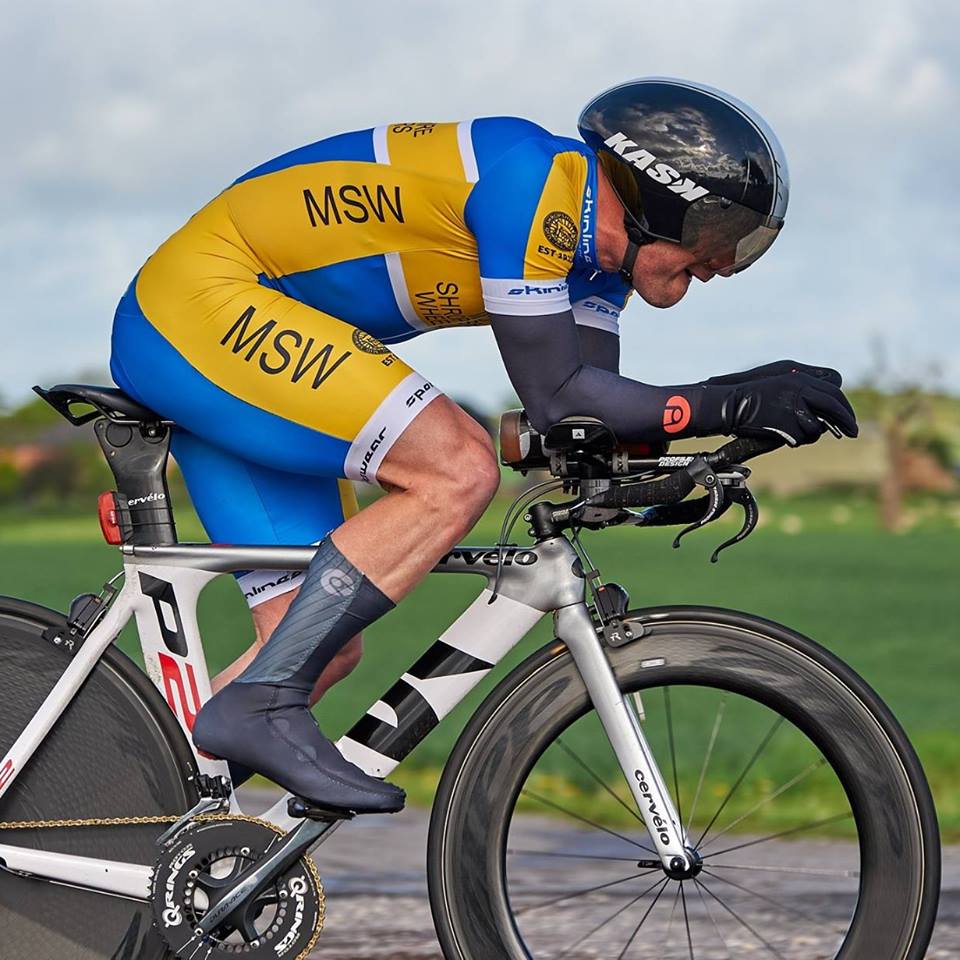 The Mids have a great number of members who take part in Time Trials at both National and Local Level in various distances up to 100 miles and  long distance endurance events over 12 and 24 Hours.
2018 Club Evening 10 Mile Time Trial Competitions
The competitions for the Points Shield and The Hare and Hounds Trophy for the fastest Mids rider will be held on Friday evenings on the Queen's Head to Gobowen course and Oswestry Paragon have kindly allowed us to run our competitions within their events. The trophies will continue to be for MSW members, the agreement being that we may need to help with marshaling on some evenings when required.
The first Oswestry event is 4th May and the last event is 31st August. All May and August events are 7.00pm start the rest are 7.30 apart from the the hilly 19 evening (but there will still be a normal 10 run within this event).
Could junior and youth riders please bring a completed parental consent form with them for their first ride. Entry fee for juniors is £2.
The Mids 2up 10 Mile TT which is part of the Coaching Revolutions 2-up series will still take place on the Westbury course. Date to be confirmed for 2018.
2018 Shropshire Cycling Clubs Calendar
Friction and Hydraulic Series 2018 – pre entry only
Local Time Trial Events
Shropshire Cycling Clubs Association (SCCA). The web site has had a major makeover and is a great resource for Time Trials in Shropshire. Listed above are the Shropshire time trials that must be pre – entered but the SCCA website has full lists of all local time trials.
Friction Hydraulics Series is the main county championship of "Open" time trials. Open events require pre-entry.  Entries must reach the organiser at least 12 days before the event on a CTT Standard Entry Form.
SB Sports Injury Series is the SCCA inter club series. These are only open to SCCA affiliated club members. Sign on the line, on the day.
Coaching Revolutions 2-Up Series a Series of 10 mile 2 rider Team Time Trials during April – September.
SCCA Four Up Team Time Trial a one off race for 4 team members over a 50Km Circuit always in August.
Coaching Revolutions Hill Climb Series a series of Hill Climbs of various heights and distances running from the end August and to Mid October.
Various Local Club Evening Time Trials
Easy to "enter on the line". Traditionally the entry point of many cyclists into club cycling, easy to enter and a great way to compete against yourself and other people. Competitors must be over 12 years of age and any under 18s need a parental consent form available to download here.
Wednesday:  Hafren Cycling Club – Various Locations or  Wrekin Sport Cycling Club – The Bucks Head, Long Lane, Telford.
Friday:  Oswestry Paragon CC – Queens Head, Oswestry.
Standard Time Trial Times and Distances
Time Trials are a test of man, machine against the course and conditions on the day. To reward Mid Shropshire Wheelers the club offer "standard medals" at all distances when standard times are achieved. Riders need to claim their standard at the end of the season from the Time Trial Secretary and a medal will be presented at the Annual Prize Presentation.
| Category | Distance | Gold | Silver | Bronze |
| --- | --- | --- | --- | --- |
| Men | 10 miles | 22:00 | 23:30 | 25:00 |
| Women | | 25:00 | 26:30 | 27:30 |
| Tandem | | 21:00 | 22:30 | 24:00 |
| Boys 17yrs | | 23:00 | 24:30 | 26:00 |
| Girls 17yrs | | 26:30 | 28:00 | 29:30 |
| Boys 16yrs | | 24:00 | 25:30 | 27:00 |
| Girls 16yrs | | 27:30 | 29:00 | 30:30 |
| Boys 15yrs | | 25:00 | 26:30 | 28:00 |
| Girls 15yrs | | 28:30 | 30:00 | 31:30 |
| Boys 14yrs | | 26:00 | 27:30 | 29:00 |
| Girls 14yrs | | 30:00 | 31:30 | 33:00 |
| Boys under 14yrs | | 28:00 | 29:30 | 31:00 |
| Girls under 14 yrs | | 32:00 | 33:30 | 35:00 |
| | | | | |
| Category | Distance | Gold | Silver | Bronze |
| Men | 25 miles | 57:00 | 1:00:00 | 1:04:30 |
| Women | | 1:04:00 | 1:08:00 | 1:12:00 |
| Tandem | | 53:00 | 57:00 | 1:01:00 |
| Boys 17yrs | | 59:00 | 1:02:00 | 1:05:30 |
| Girls 17yrs | | 1:06:00 | 1:10:00 | 1:14:00 |
| Boys 16yrs | | 1:01:30 | 1:04:30 | 1:08:00 |
| Girls 16yrs | | 1:08:00 | 1:12:30 | 1:16:30 |
| Boys 15yrs | | 1:10:00 | 1:14:00 | 1:18:00 |
| | | | | |
| Category | Distance | Gold | Silver | Bronze |
| Men | 30 miles | 1:09:00 | 1:13:00 | 1:18:00 |
| Women | | 1:17:30 | 1:22:00 | 1:28:00 |
| Tandem | | 1:04:00 | 1:09:00 | 1:14:00 |
| Category | Distance | Gold | Silver | Bronze |
| Men | 50 miles | 1:58:00 | 2:06:00 | 2:16:00 |
| Women | | 2:15:00 | 2:25:00 | 2:35:00 |
| Tandem | | 1:49:00 | 1:55:00 | 2:04:00 |
| Category | Distance | Gold | Silver | Bronze |
| Men | 100 miles | 4:14:00 | 4:30:00 | 4:50:00 |
| Women | | 4:40:00 | 5:00:00 | 5:20:00 |
| Tandem | | 3:48:00 | 4:05:00 | 4:25:00 |
| Category | Distance | Gold | Silver | Bronze |
| Men | 12 hours | 250miles | 235miles | 210miles |
| Women | | 225miles | 210miles | 195miles |
| | | | | |
| Category | Distance | Gold | Silver | Bronze |
| Men | 24 hours | 440 miles | 415 miles | 380 miles |
| Women | | 350 miles | 325 miles | 310 miles |
| | | | | |